What a day! Three days later, we're still riding high from the great vibes of Saturday's Kona Rove Ramble ride.
This was our first time taking folks out en mass on one of our signature routes, and it's been a long time coming. As we've worked on the route collection over the last several years, we haven't prioritized spreading the word about all of our excursions, because the reality is that when routes are still in the development stages, anything could happen. Think hordes of mosquitoes, unexpected dead ends and multiple water crossings... and that's just the environmental factors. We wanted to make sure that we tried and tested routes in every season before gathering a big group for a ride.
Accommodating a variety of skill levels and preferences means providing a variety of routes and paces with different levels of challenge provided by combinations of terrain, surface type, elevation, and distance. Flyboy's Day Off is a great example of a route that suits a variety of bikes and works at many times of year, offering options to make things spicy or laid-back based on a rider's preference, and providing easy access to amenities along the way. Read on for the full route report.
Despite our best efforts, things were a little chaotic as we left town on Saturday, and while we remembered extra water and snacks, we forgot our camera setup--and Adam forgot his phone in the truck! We managed to squeak out a couple of shots with Laura's phone, and updated our packing checklist for next time.
May 2023 has been full of great riding weather, and it was about 25 degrees without a cloud in the sky when we set out for our ride. The group demographics were varied, which means we got to hear feedback about Flyboy's from a range of perspectives. Parents brought babies and toddlers in trailers, a couple of enthusiastic preteens held their own, and the adults varied from experienced gravel racers and roadies to relative newbies. An all-around great crew!
The original route for Flyboy's Day Off started at Parsons Brewing Company, but we decided to shave the last couple of kilometres off for the Kona Rove Ramble edition, starting and ending at Prince Eddy's instead, reducing the amount of time that the group would spend on a busier road. The group met up at 2:00 at the brewery, and folks who had arranged to borrow Kona Rove gravel bikes for a test ride got set up in the parking lot.
We rolled out onto the Millennium Trail, and the group immediately spread out, with riders finding their pace and companions. Adam took up the lead, while Laura stuck with the back pack. We love how this works out: everyone's able to have the ride they want, without feeling pushed too hard or left behind.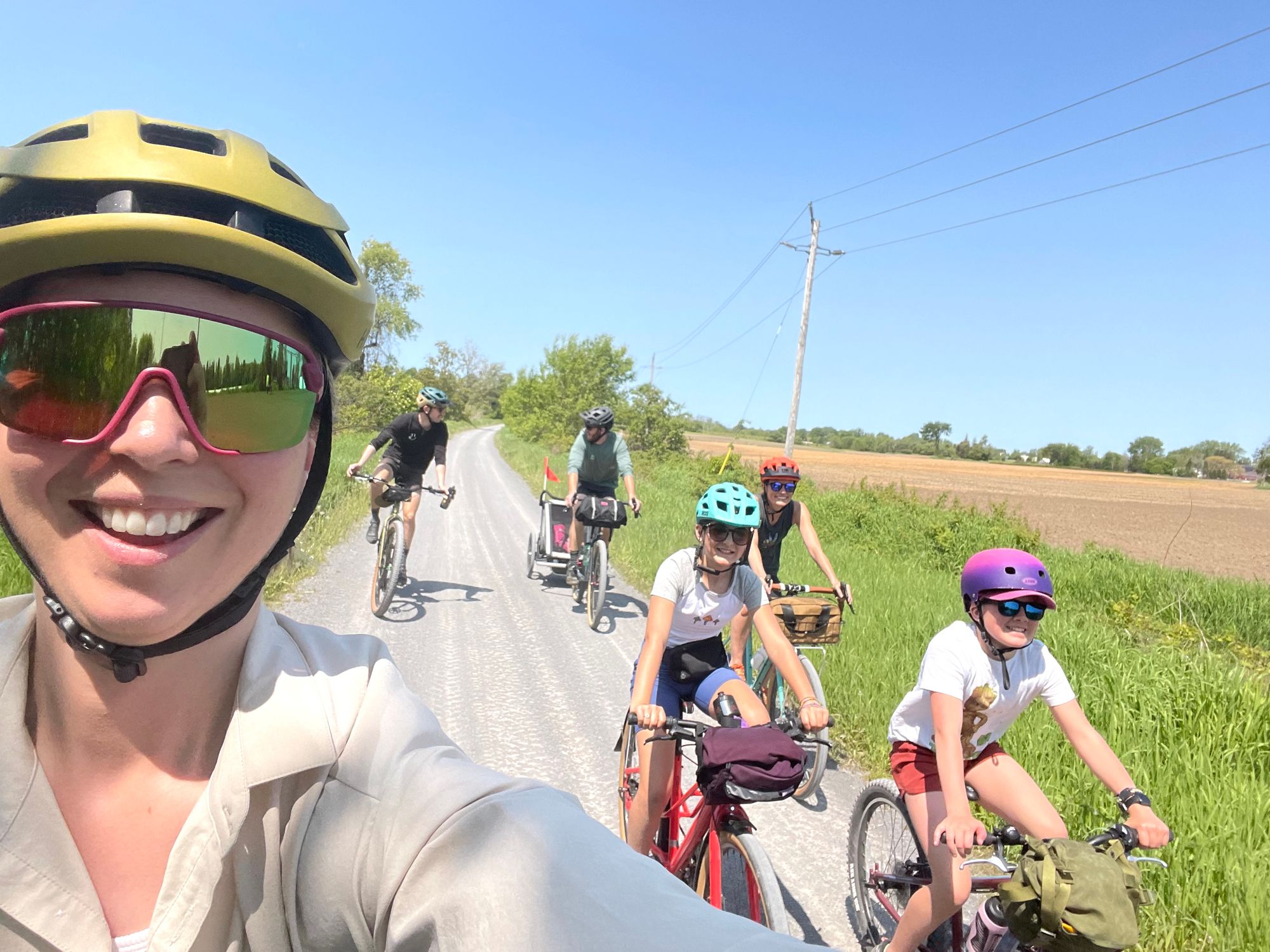 We stopped in at Matron Fine Beer for a quick check in and a cold drink around kilometre 10. This was a great fit for a demo ride, because it allowed us to check in with people who were riding unfamiliar bikes and make sure they were still feeling comfortable. At the same time, it allowed people a moment to get to know each other before the end of the ride when some people are bound to disperse and others often gravitate towards folks they know. We love that Matron's beverage lineup includes several tasty, low-ABV and non-alcoholic options, so we didn't feel sluggish when we hopped back on the saddle.
We wound our way back out of Bloomfield by way of Shannon, Marisett and Eames Roads, where we barely encountered enough cars to count on one hand. What we did count were tractors in the fields, lazy butterflies and other groups of cyclists as we headed towards the old air base.
The last portion of the route passes by Slake Brewing (we didn't stop this time, saving everyone from the Slake Snake!) and then enters Airport Lane, a stretch of gravel that's technically accessible to cars, but rarely sees them. The slow climb was crushed by everyone, including the trailer-toters and the 24" wheel crew. It felt amazing to fly down the paved section back down into Picton after that!
It was great to have a home base like Prince Eddy's where riders could rejoin the gang at their own pace as they finished the route, and find a comfy place to stretch out on the lawn.
We can't wait to do this again, and hope you'll get the chance to take Flyboy's Day Off for a spin this season. Let us know how it goes!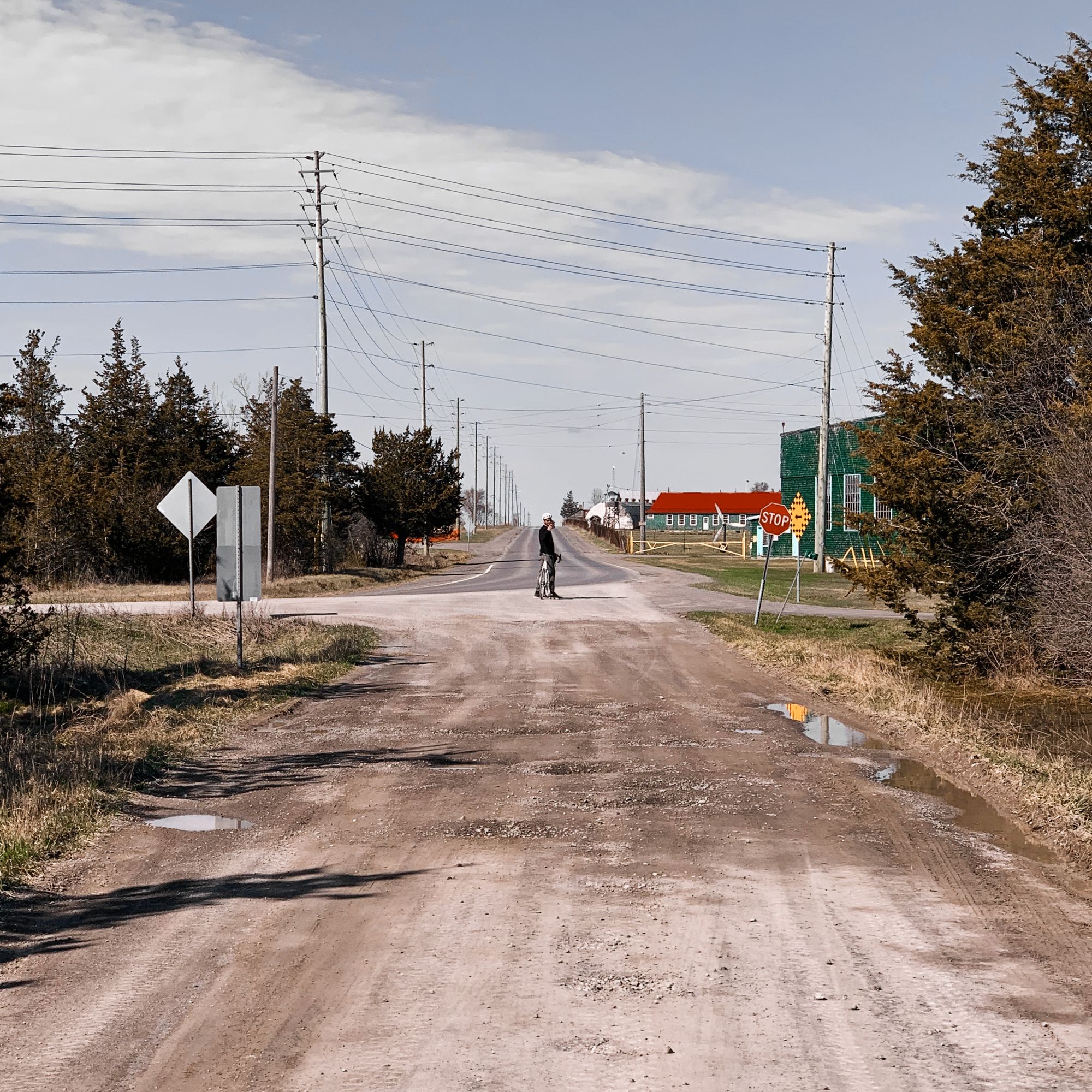 Fine Print
By participating in any offline arranged ride or activity, you, your heirs, executors, administrators and representatives do hereby agree and will absolve and hold harmless BayOfQuinte.Bike organizers, it's corporate sponsors, cooperating organizations, and any other parties connected with this web site in any way together with their respective successors from and against any blame and liability for any and all losses, damages, rights, claims, and actions of any kind including, without limitation, personal injuries, death, and property damage, or any other damage of any kind whatsoever either directly or indirectly related to or arising from your participation in any such offline BayOfQuinte.Bike organizers arranged ride or activity.
User assumes all risk and liability for any action in relations to usage of information and routes on bayofquinte.bike, including if actions result in injury, death, loss or damage of personal property or other complications. BayOfQuinte.Bike, its partners, associates, and contributors accept no liability. Route information and advice is provided as a planning resource only, and is not guaranteed to be accurate or complete, and in no way should replace your own due diligence, research, and safety precautions. All users are advised to check current conditions before embarking on any route, including weather, surface conditions and closures. Riders should obey all laws including public and private land usage restrictions and guidelines and carry adequate safety and navigational equipment.