The last few camping seasons have seen us leaning into the idea that not every bikepacking trip has to be an epic undertaking. So many things add complexity to our day-to-day that we look forward to the simplicity of a single night under the stars, just far enough from home that it takes some effort to get there.
There's a time and place for touring, but sub-24h overnights (AKA S24Os) can be some of the simplest bikepacking trips to prep for once you have a starter kit to work with.
The lightweight spirit of the Swift Campout is one that resonates with us whenever we start thinking about our next trip. The short nature of the S24O means you can get away without bringing along some of the clunkier camping classics, like bags of ice, extra weather gear, and several days' worth of meal prep and fuel. You don't really need to carry a whole bunch of canned bevvies since it's just one night, and we don't recommend it, either—that'll weigh you down real fast, and they'll be lukewarm at best once you get to camp.
Our two-person camping setup has seen several iterations over the last five years, and each trip teaches us something about what we would—or wouldn't—want to bring along next time. Here's last year's campout packing list, featuring a throwback to what our first ever Swift Campout together looked like.
This year, we're bumping our 2023 Swift Campout (usually held on the summer solstice weekend) up a week so that we can enjoy the grounds at Slake Brewing Company as our evening destination. We are stoked that Slake will have us overnight on June 17th!
The Slake Campout route is comprised of many of our favourite County roads that feature on a variety of different bayofquinte.bike routes, combined to take us on a scenic ride out to Slake and back. It's 104KM spread pretty equally over two days, and the beginning section of Sunday morning's route is planned to allow folks who aren't joining the campout to join the camping crew for a 40KM loop that starts and ends at Slake the next morning.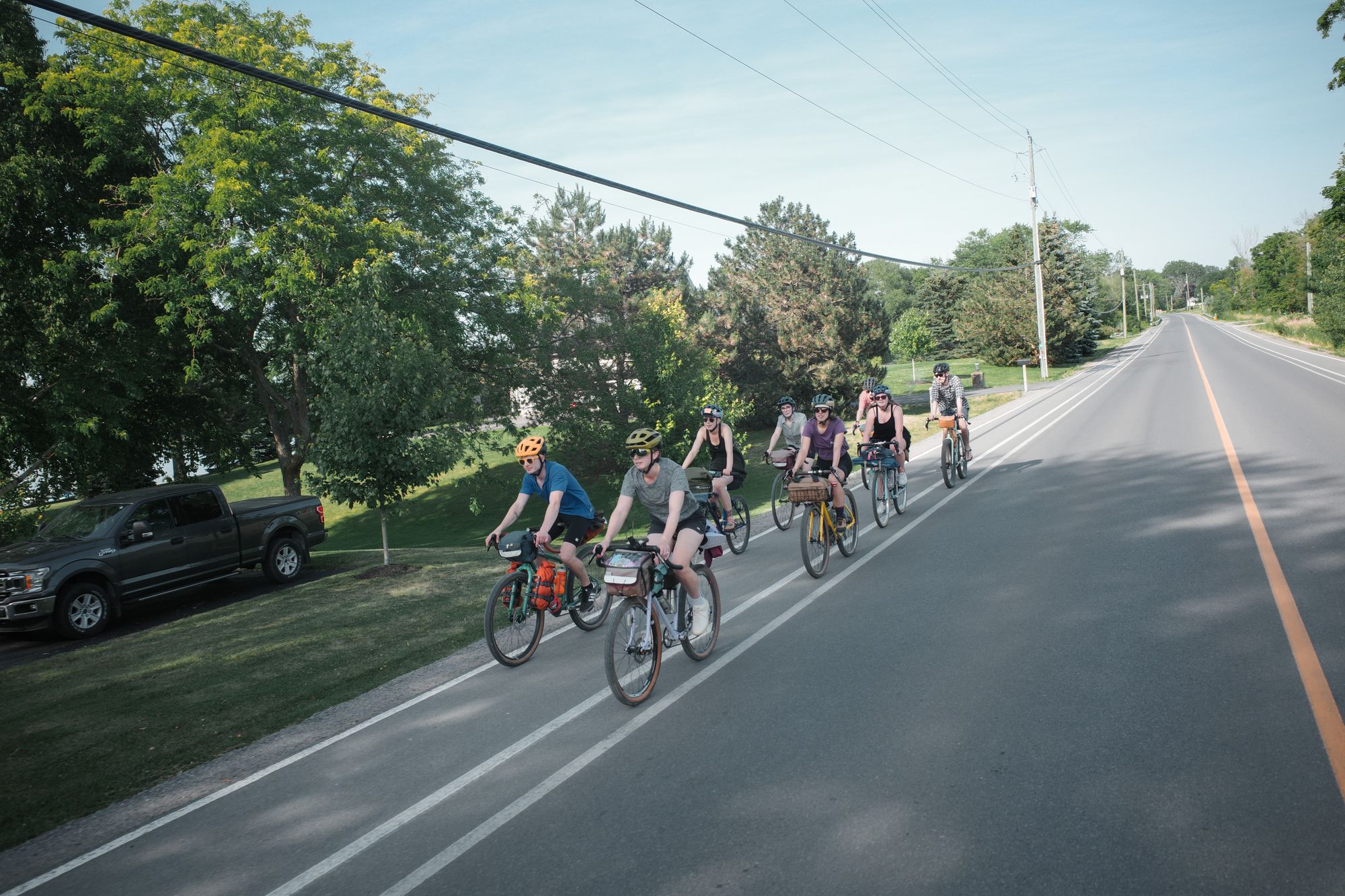 This is a No Drop Ride, meaning that no one will be left behind. Expect a wide range of different paces long the ride—you'll be able to find someone to ride with, even if you come solo.
This is a Self-Supported Sub-24-Hour Camp Out Ride, meaning that all bikepackers must be prepared to bring all of their own overnight supplies on their own bike.  Camping is only available to those who RSVP and join the ride, and is only available on this specific weekend.
Not sure how to pack? Here's our shortlist:
⛺
bayofquinte.bike's short & sweet S24O packing list:
Riding Gear
- Your gravel bike, equipped with lights and a bell. 
- Your helmet
- Your water bottles (we recommend at least two)
- Sunscreen
- Sunglasses
- Riding shoes (if possible, ride in shoes you will be comfortable in at camp)
- Your tools + an extra tube for your own bike. Always be prepared!
- Your navigation: you should arrive at the route starting location with the route loaded on your phone or GPS and be familiar with the RWGPS app.
Sleeping Gear
- Tent
- Sleeping bag or lightweight blanket, inflatable pillow if you fancy
Incidentals
- Warm clothing to wear by the campfire/sleep in
- A head lamp or flashlight
- Bug spray
- Phone charger and battery pack
- Coffee & your preferred brewing method
- Your favourite snacks for while you're riding + hanging by the fire
What About Food?
The fantastic REBEL TACO will be serving up food at Slake on Saturday night, so each rider should be prepared to order food + drinks upon arrival, and have a bite before setting up camp. The brewery will close at sundown.
Rebel Taco will also take care of breakfast in the morning—those who RSVP will receive a follow-up email with details + a link to pre-pay for breakfast. We highly recommend simplifying your camp setup by letting Ian take care of it!
Be sure to bring your own bars or chews for the ride, and any campfire snacks you might want to enjoy after Rebel Taco is gone for the night.
Notes 📝
—> Riders must RSVP in Ride With GPS and be members of bayofquinte.bike.
—> Riders must bring their own bike, helmet, water, and all the gear they'll need to camp overnight. Water refills will be available at the campsite, but can't be guaranteed anywhere else along the route. You should also be prepared with a spare tube and a basic tool kit.
—> Need help? Stop by The Brake Room in the weeks ahead of the ride if you think your bike needs assessment or if you want to talk about how to prepare for the ride.
—> All bikes must be in excellent working condition on arrival and should have gravel or mountain tires. These routes contain sections of hard packed gravel, loose gravel, some consistent climbing. Be prepared!
—> The Brake Room, Slake Brewing Company, bayofquinte.bike and route organizers assume no liability. All riders must complete a waiver and acknowledge group ride safety guidelines ahead of the ride start